Scroll to the end of this page
---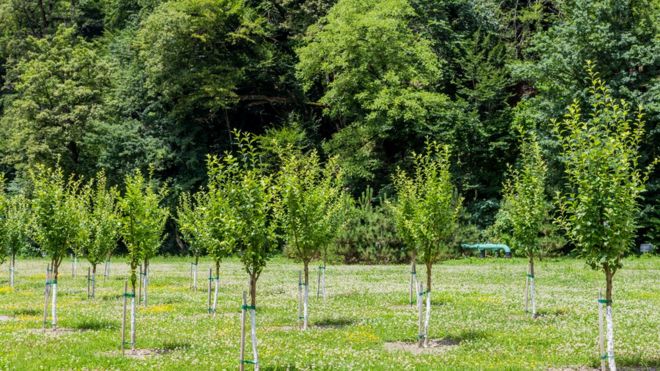 Plans to create a new Northern Forest stretching from Liverpool to Hull have been kick-started by the government.
It is providing £5.7m to increase tree cover along a belt spanning Manchester, Leeds and Bradford.
The project will cost £500m over 25 years. The balance of the funds will need to be raised by charity.
Environmentalists have welcomed the planned 50 million new trees, but say ministers must stop allowing ancient woodland to be felled.
The UK has one of the lowest rates of woodland in Europe and the area to be covered by the Northern Forest is one of the most denuded in England, with tree cover less than 8%.
The emphasis of the project will be to increase tree cover around major conurbations to 20%. There will also be a focus on river valleys, where there are benefits for flood prevention and soil loss - as well as wildlife.
But these areas will soak up funding, leaving many of the northern hills just as bleak and treeless in the coming 25 years.
Will Europe's last primeval forest survive?
The forests that are falling silent
But the Woodland Trust, which is leading the scheme with local Community Forests, says the new wooded areas shouldn't be under-estimated, as they will greatly enhance the environment for people in northern cities.
Its conservation director, Austin Brady, said the benefits would be strongest in areas where there's been industrial activity, over-grazing and neglectful farming.
He told BBC News: "We're delighted the prime minister's supporting our project - it's great to get the idea of the Northern Forest on the map.
"Admittedly the government's cash contribution isn't huge, but it will help us to unlock other funding."
'Supreme irony'
There should be more government cash available for landowners to improve the environment by tree planting if farm subsidies are reformed after Brexit, as planned by the Environment Secretary Michael Gove.
The government will also review incentives to plant trees, as part of its plan to combat climate change by storing more carbon in soils.
Mr Brady also said the Trust hoped to benefit from funds allocated for mitigating the environmental impact of major transport projects expected in the north, such as road-building and HS2.
But Paul de Zylva from Friends of Earth told BBC News: "It is a supreme irony that tree planters will have to get funding from HS2, which threatens 35 ancient woodlands north of Birmingham.
"You simply can't compare the biodiversity value of new sticks in the ground with ancient forest.
"If the government really cared about woodlands it wouldn't be routing a high speed train through them. And it wouldn't be allowing this weight of this project to be carried by charity."