version 2.0 for J2.5
version 1.5 for J3
Using Shortcode Show you Linkedin Profile and Company Page Inside Your Joomla Site
With this plugin you can add the Linkedin widgets in content using easy tag/shortcode. Using same API we made some plugins for Joomla to easy embed social widgets, slideshows etc in Joomla contents. Shortcode makes it very easy to use.
Live Preview » JED Approved » Documentation » Support forum »
Front End
Admin Screenshots
Buy Now
Happiness Guaranteed: 30 Days Refund Policy
Joomla Version Support
Supports all Major Browsers
Commonly Asked Questions
Upto now it supports Com_Content and K2 (only upto Joomla 2.5)

Absolutely. You have full control over the contents.
SUPPORT FORUM
Have Question? Go to Our Support Forum »
Version History
| Version | Date | Change |
| --- | --- | --- |
| 1.5 | 11/04/2017 | * Add Auto Update  for Joomla 3 |
| 1.0 | 19/05/2015 | * Relase for Joomla 3 |
| 2.0 | 10/03/2012 | + Control improvements |
| 1.5 | 06/02/2012 | * Bug fixes |
| 1.1 | 10/01/2012 | * Initial release |
Tutorial
Usages:
How to get profile url or company url for your Linkedin profile? For profile widget/module setting you need to put your public profile URL: Login to your Linkedin, From main menu Profile->View Profile Now the url mentioned as "Public Profile"
Click here to check the screenshot
To get your company Name or ID: After login or from home page, go from Companies->Your Company Or any company you follow
Click this here to see screenshot how to get the company name
Again if you are advance user and own the company profile in linkedin then Click the admin tools in company profile page and then mouse hover on delete, see the status bar for your exact company id. Again you can go
here
, Type your company name , example "Codeboxr", hit enter, click "Get Code", See the value in data-id , For Codeboxr it will show "2282648″
Short Code Usages:
Suppose need to show Company profile widget, here the shortcode
{cblinkedin widgettype=CompanyProfile dataidcp=2282648}
Here, cblinkedin = shortcode for linkedin widget, mendatory widgettype = widgettype, default value is "MemberProfile" for member profile, more available "CompanyInsider" for company insider and "CompanyProfile" for company profile. Let's see widget specific parameters settings: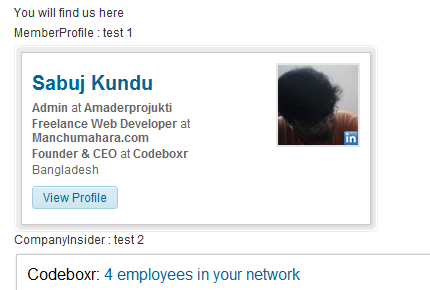 Member Profile :
{cblinkedin widgettype=MemberProfile dataidmp=http://www.linkedin.com/in/manchumahara showrelatedmp=0 jsaddmethod=1}
dataidmp = member profile url, example:http://www.linkedin.com/pub/sohel-sarder/39/74b/82 showrelatedmp = show related or not, value 0 or 1 , default 1, optional, can be set from plugin setting jsaddmethod = javascript add method, sync or async. optional, can be set from plugin setting. One more short example:
{cblinkedin widgettype=MemberProfile dataidmp=http://www.linkedin.com/in/manchumahara}
Company Insider :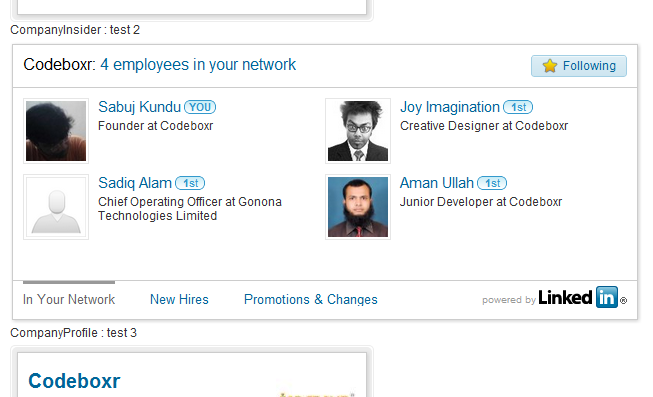 {cblinkedin widgettype=CompanyInsider dataidci=2282648 innetworkci=0 newhiresci=0 jobchangesci=0 jsaddmethod=1}
dataidci = company id, see above about how to grab company id innetworkci = show in network, 0 or 1, default 1, optional newhiresci = show new hire, 0 or 1, default 1, optional jobchangesci = show job changes , 0 or 1, default 1, optional Short example:
{cblinkedin widgettype=CompanyInsider dataidci=2282648}
. Also some default setting can be set from the plugin setting page in admin CompanyProfile :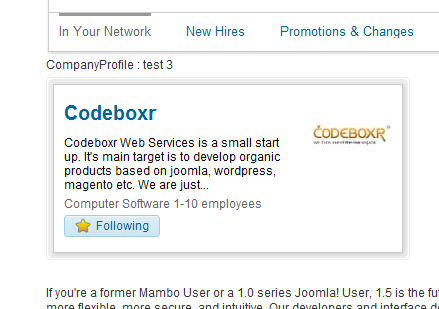 {cblinkedin widgettype=CompanyProfile dataidcp=2282648 showrelatedcp=0}
dataidcp = company id, check above about how to grab company id showrelatedcp = show related connections, 0 or 1, default 1, optional More short example:
{cblinkedin widgettype=CompanyProfile dataidcp=2282648}